ABOUT TRULY TEXAN

Truly Texan is designed to promote Texas artists and entrepreneurs, pure and simple.

Started in spring 1998, Truly Texan is owned and managed by C. C. Blewett, sixth-generation Texan. We've been on the Internet since 1989, but it was early in 1997 when C.C. developed her first online retail store for a local artist, Hillary James. The success of that site (named a Best of the Web by Forbes in summer 2003), plus a real desire to help other artists and entrepreneurs succeed on the Internet, led to Truly Texan.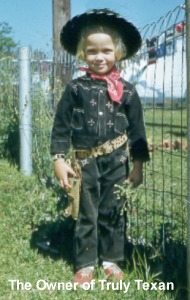 The oldest online mall featuring only Texas-based companies, Truly Texan finds the Texas artisans, artists, and service companies who create unique, high quality and, often, really fun products or services. Our repeat visitors are discriminating; they recognize quality, individuality, and fine craftsmanship.

We hope you'll keep up with our artisans by subscribing to our newsletter (see signup below).

See our Texas facts page for some fact as well as idle observations.

If you're interested in adding your company, click here for the details.

Privacy Policy: We never share your information with anyone. Ever.
Quality & Service Policy: If any of the companies we feature treats you badly, let us know. We'll hunt them down. . . . oh, not really. But, if we got enough complaints to identify a pattern, we are not above kicking them off Truly Texan.

At Truly Texan, we don't sell anything; we help you find great Texas companies. And we started doing it long before pay-per-click advertising and affiliate programs because we truly wanted to help unique Texas companies get recognized. Our very first artisan was with us until he passed away in October 09 (and Texas will never be the same without you, Jerry), so we must be doing something right!

Ridiculous Use of Money is where C.C. writes about ecommerce, web design, computer tips, and whatever else is striking her fancy.

Desperate to contact us? Please call the number below - unless you want to sell me something. I have everything I need, thanks!